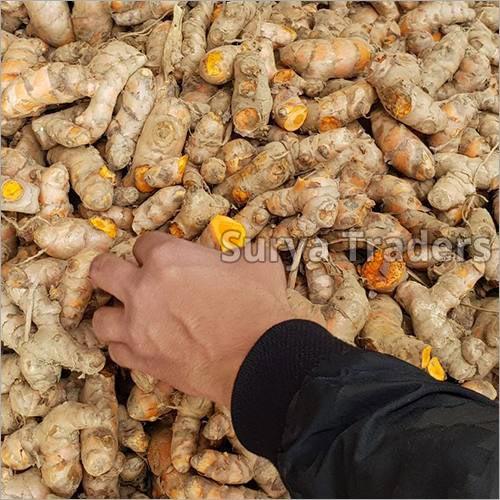 Turmeric is a rhizomatous perennial plant belongs to the ginger family and also known as Curcuma longa. It is native to tropical South Asia. In India, turmeric is well-known for its antiseptic and healing properties. Generally, it has a peppery, warm and bitter flavor and a mild fragrance slightly similar to orange and ginger. Turmeric comes from the Curcuma longa plant's root and has deep orange flesh and tough brown skin. It is commonly used to add color, and aroma to our foodstuff. Turmeric is also used in brine pickles and relish formulations, gelatins, non-alcoholic beverages, butter, cheese, etc. and to some extent in mayonnaise. It is commonly used as a dye in the textile industry and also finds its applications in the preparation of many medicinal oils, ointments, poultice, and cosmetics. It is a natural blood purifier, stomachic, carminative, tonic, and an antiseptic. The aqueous extracts of turmeric have biopesticidal properties.
Turmeric is generally sourced from the farmers who grow the crop in a natural and organic manner. Turmeric powder that we purchase from the market is made from turmeric fingers. There are many turmeric finger suppliers in India who offer optimum quality turmeric fingers at competitive prices. The offered turmeric fingers are the purest form of turmeric that has good health enhancing capabilities and are widely used for the preparation of various types of fine powders, food colors, and enhancers as well as medicines.
A few famous grades of Indian turmeric fingers are as follows: -
• Aleppo turmeric fingers from Kerala
• Erode turmeric fingers from Tamil Nadu
• Rajapuri turmeric fingers from Sangli, Maharashtra
• Nizamabad turmeric fingers from Andhra Pradesh
• Cuddapah turmeric fingers from Andhra Pradesh
Different types of Indian turmeric fingers are as follows: -
• Turmeric finger Bold
• Turmeric finger Curcuma
• Turmeric finger Sannam
• Turmeric finger Bulp
Health benefits related to turmeric fingers: -
• Turmeric finger has been in use since ancient times for it's anti-inflammatory or painkiller, carminative, anti-flatulent and anti-microbial properties.
• It contains essential oils such as zingiberene, turmerone, cineole, and p-cymene that are beneficial for our health.
• Curcumin, a polyphenolic compound found in turmeric finger has antioxidant, anti-arthritic, anti-tumor, anti-amyloid, anti-ischemic, and anti-inflammatory properties.
• It does not contain any cholesterol. However, it is rich in antioxidants and dietary fibers that help in controlling blood LDL (bad cholesterol) levels.
• It is a good source of many essential vitamins such as choline, niacin, pyridoxine (vitamin B6), and riboflavin, etc. Pyridoxine found in turmeric is employed in the treatment of sideroblastic anemia, homocystinuria, and radiation sickness. Niacin present in it helps in preventing pellagra or dermatitis.
• The fresh turmeric finger contains good levels of vitamin-C, which is a water-soluble vitamin and a powerful natural antioxidant that helps the body to develop immunity against infectious agents and to remove harmful free oxygen radicals.
• It contains good amounts of minerals like iron, potassium, calcium, manganese, copper, zinc, and magnesium. Potassium is an essential component of cell and body fluids that helps in controlling blood pressure and heart rate. Our body normally utilizes manganese as a co-factor for the antioxidant enzyme, superoxide dismutase. Iron is a relevant co-factor for cytochrome oxidase enzymes at cellular level metabolisms and necessary for red blood cell productions.
For purchasing quality turmeric fingers, you need to look out for trustworthy triurmec finger suppliers and manufacturers in India who ensures pre-quality checks while picking up at farms and post-quality checks during the processing of turmeric fingers. The offered product should be under constant vigil of the agro experts to preserve the natural form of turmeric fingers. The turmeric fingers you purchase should be pure, unadulterated in nature and should have a longer shelf life.